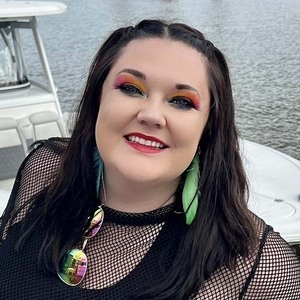 Nicole Tuttle-Robb
Co-Host of These Silent Secrets
Nicole Tuttle is a stage and voice actress with a Master of Arts in Theatre degree from BGSU. She's been playing rpg's for over 7 years and specifically has been playing her favorite system Monsterhearts since the beginning of the pandemic. Her voice can be heard in audio dramas such as The LaFresian Chronicles (which she also writes and produces), The Waystation, Oh Wayward Nights, The Fause Knight, When Tower Angels Fall, and several others.
A fun fact about Nicole is that she can't pick one artistic venture, she is a professional photographer, graphic designer and has written two musicals and a full length novel!
Nicole Tuttle-Robb has hosted 22 Episodes.